A wall mirror is not merely a piece of furniture to have a reflection of someone, in-home, and workspace but a subtle statement piece of interior. Wall mirrors give off a great functional outlook such as full-length mirrors and also have a great aesthetic appeal such as decorative wall mirrors. There are different mirrors for walls- oval wall mirrors, round wall mirrors, frameless wall mirrors, decorative wall mirrors, large wall mirrors, and bathroom wall mirrors. You can install any of these wall mirrors safely in a few easy steps using the guide below:
What you Need
Pencil

Putty blade

Wall mirror

Adhesives

Electric drill

Screwdriver

Tape measure

Carpenter's level

Plastic mirror clips

An assistant
Step One: Choose the Place to Install the Wall Mirror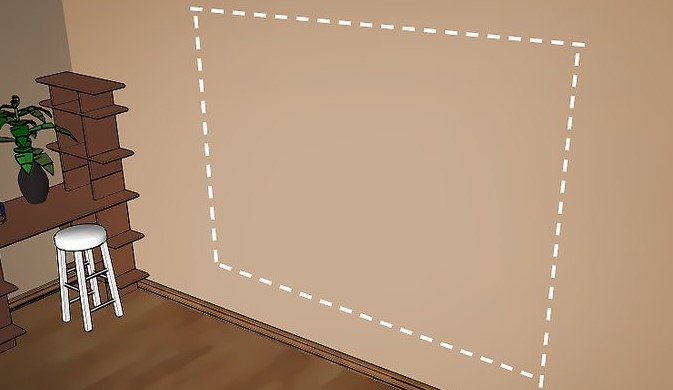 Wall Mirror
Your choice of location will be determined by the intended use of your wall mirror. Functional mirrors are best placed over a bathroom sink, beside a bedroom closet or over a drawer. Decorative wall mirrors can, however, be placed randomly in rooms, hallways, entrances and dining areas as they light up any space and make it more attractive.
Step Two: Decide on a Suitable Mirror Type and Size
Large wall mirrors or big mirrors are great in bedrooms and can be installed to complement the décor of headboards and footboards. Bathroom wall mirrors are obviously great for bathrooms but can also work well for foyers and hallways. Full-length mirrors can also function as decorative wall mirrors if used in large living spaces such as dens, parlor or dining room. Whatever you decide, it is advisable that your mirror is custom cut for your space for it to be a perfect fit and sophisticated finish.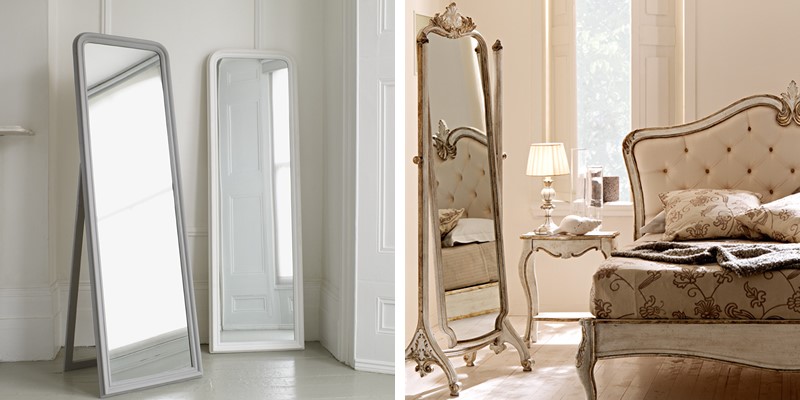 Decide on a Suitable Mirror Type and Size
You can confirm this during the dry-fit process- the point where you fit your cut mirror into its proposed space to ensure it fits properly. Depending on the type and size of the mirror, you might need an assistant to help you at this point. This is also the time to mark with pencil lines above, below and sideways, to help you position the mirror well during mounting.
Step Three: Select a Mirror Hanging Method
Adhesive hanging offers solid support for wall mirrors while bracket suspension is suitable for mirrors in high-traffic areas such as entrances and bathrooms. Framed mirrors can have a hanging wire mounted at the back. You can also tilt your hanging wall mirrors to reflect more of the room.
Wall Mirror Installation Using Metal Brackets/Mirror Cleats
Use a tape measure to delineate the total area that the mirror is to occupy, using a pencil to sketch a frame around it. Outline the corners for the metal/polyurethane brackets or mirror cleats. Check with the carpenter's level that the lines for the mirror frame are level and at right angles and then drill screw holes for the brackets with an electric drill.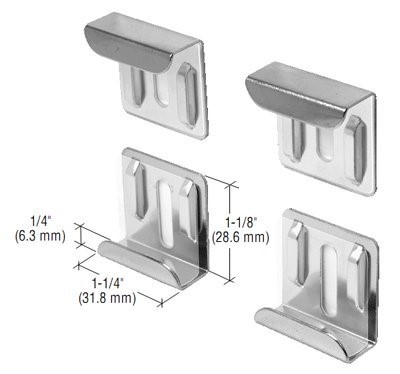 Wall Mirror Installation Using Metal Brackets
Create screw holes for the lower left and right brackets, ensuring that at least two of the screws go into a wall stud. Fix the two lower brackets and set the mirror into them. Check and mark the location of the top two screw holes before drilling. Remove the mirror and install the
top 2 brackets.
Wall Mirror Installation Using Mirror Cleats
Fix the mirror into the lower brackets again and put the top two brackets over the mirror, tightening the screws with a screwdriver. (
click here
)
Wall Mirror Installation Using Frames
Place two eye hooks into the back of the mirror frame, about two inches from each edge at the top midline of the mirror. Put a relatively thick cord - this could be aluminum or fiberglass, through the hooks and fasten it near any of the hooks. At a height of 48 to 60 inches from the floor (based on room measurement or personal preference), measure the center point of the mirror's width on the wall and fix a screw to the wall.
Hold the mirror by the base and hang it, releasing it slowly to ensure that its weight is evenly distributed until it balances. Be careful not to hang the mirror too high as it can make the room feel odd or disconnected.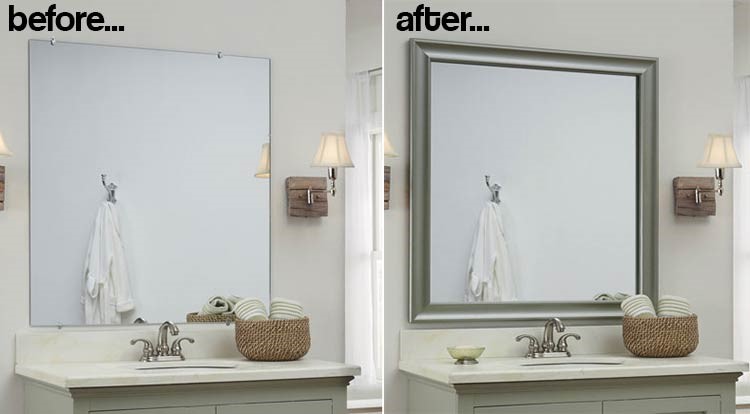 Wall Mirror Installation Using Frames
Wall Mirror Installation Using Adhesives
Ensure that the intended wall surface is clean and dry. Have an assistant hold the mirror to the wall while you outline it on the wall with a pencil to give a level frame you can work it. Apply mirror mastic thinly to the back of the mirror and even out with a putty blade. Afterward, press the mirror quickly and firmly onto the outline for as long as it is required for it to stay in place minutes. Your wall mirror is ready!
Best Places to Install Wall Mirrors in the Home
Anyone can put up a wall mirror anymore but if you want to enjoy the true beauty of a mirror in your living space, it's best to have it in at least one of the following places:
1. Foyer:
The entrance hall in a home, apartment, luxury building, and the likes is one of the best places to put up a wall mirror. It has a welcoming aura that gives your guests a good first impression of your personality before they even get to know you. For you, it will give you the opportunity to get a final glance at your reflection before you step out.
2. Door:
A full-length wall mirror on a door makes it…well, more than a door. if this door faces the window, it will instantly light up your living space during the day and make it warm, welcoming and of course unusual.
3. Bathroom:
A bathroom's not complete if there's no mirror in it. This is one place you can have cheap wall mirrors or frameless mirrors and get away with it.
4. Dining Room:
There's always space for decorative wall mirrors in the dining room. Add a chandelier to this and you have a dramatic reflection that'll come in handy in the evenings when the table is set for two or during festive seasons when you have a full house.
5. Living Room:
A true living room is one that has a full-length mirror directly opposite or adjacent to its window to create a classic décor look and feel. You can get the best of the morning light without having to step out of your comfort zone. Be sure to get drill bits made exclusively for hanging wall mirrors on your type of wall and you'll be fine.
Wall Mirror Installation Tips to Know
An oval wall mirror is a perfect choice to add personality and style to angular space.

Full-length bathroom wall mirrors will open up a cramped bathroom and make it appear roomier.

A decorative mirror as a complementary décor should not be wider than the piece of furniture it's supposed to project.

Wall mirrors can be positioned opposite windows or near a light fixture to enhance the appearance of natural lighting as well as hide flaws present in a room.

Round wall mirrors create an optical illusion of more space while providing optimum balance, contrast, and softness in regular living spaces

Frameless mirrors help you make the most of small spaces. You can create your own style of decorative wall mirrors by installing a group of frameless wall mirrors in proportion to each other.

For heavy mirrors, use metal clips secured with hollow-wall fasteners or screwed directly into wall studs for heavy mirrors.

Mirror adhesives attach mirrors to walls and forcefully removing the mirror afterward can damage both the mirror and the wall.
A DIY Guide to Keeping Your Wall Mirror Clean after Installation
There's one more step for you to follow after you've safely installed your wall mirror. This step is known as the cleaning process. It is the last but most important stage of installing a wall mirror as the leftover residues could either damage the mirror or living space. Your wall mirror installation is therefore not complete until you do the following:
1. Use a razor blade to remove solids soils such as paint or adhesives stuck to the edges of the wall mirror.
2. Clean the edges of the mirror with a warm damp cloth for a neat finish
3. Use a mild cleaning solution that DOES NOT contain harsh or abrasive ingredients (ammonia, bleach, vinegar or acidic solvents) to clean the mirror. Apply the cleaning solution to a soft clean cloth and gently wipe the face of the mirror.
4. Pack up all tools and remnants of the installation and cleaning process to be stored away until the need arises.
P.S: Keep every type of liquid away from the edges of your wall mirror and do not spray cleaning liquids directly on the mirror or its edges to avoid "black edge". You can clean your wall mirror periodically by simply following step 3.
Fab Glass and Mirrors is an industry leader in the production, distribution, and sales of elegant wall mirrors and glass products of the highest quality in different styles and sizes for creating beautiful homes and living spaces. For more information about wall mirrors, please visit www.fabglassandmirror.com