According to content manager Jake McKenzie, "Every small business should be on Facebook that helps to legitimize and grow your business around the world." He further added that "A business without a Facebook page seems outdated or untrustworthy at worst."
From its powerful advertisement, Facebook has many other effective tools small businesses should use. With so many ways to use the power of social media, it can be difficult to know how to promote your business on Facebook effectively and where to start.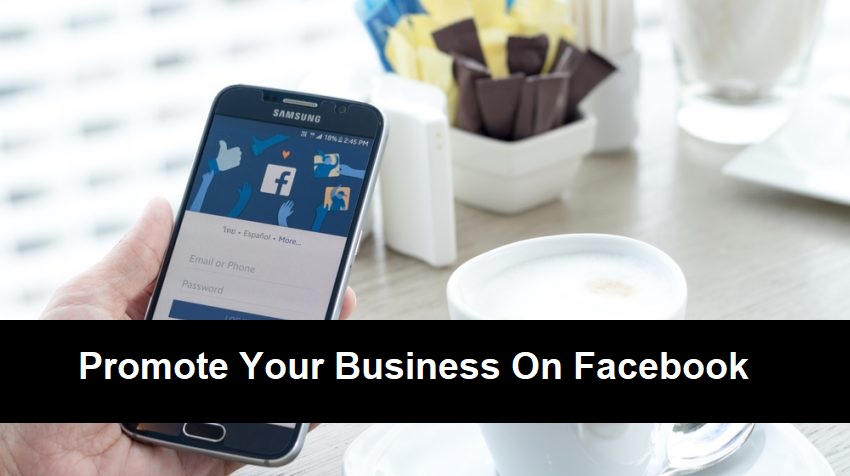 In this article, we have discussed five easy steps to promote your small business on Facebook.
1. Create an eye-catchy business page.
If you're dealing in multiple businesses, it is advisable to create a separate page for each. Remember, the use of your personal Facebook profile gives an impression of unprofessionalism.
A page should be like a regular profile, specifically for brands and business–users must "like" your page to see its posts. Facebook gives you a lot of options to customize it. You can use those options to make your page prominent in front of a targeted audience. Add as much information as about the date of establishment of your business, including your business address, website link, contact information, business hours, products, etc.
Also, add a relevant profile and cover photos that must reflect your business nature.
2. Stay active and post regularly.
Setting up a business page isn't just enough, and to promote your business; it is important to post regularly. According to Fundera social media manager, Katie Campbell, "Post as frequently as you can, and once per day. Your audience wants to feel like they know your business."
While it's not just important to post regularly, but the content should be quality otherwise it will create a negative impact on your business. Campbell suggests posts about your products or services and photos of your employees show your dedication to quality and transparency.
If you're unsure what to post about, do an experiment–use Facebook's poll features to learn what customers want to see at Facebook Page Insights, which is free for every business page? The insight shows valuable information, with each post like how many people engage and how many people it reaches.
3. Build followers
What good is sharing great content if no one likes our page or sees it? It's not that simple, and there are a few ways to build a following on Facebook. The first and foremost step to inform the audience about your page is to send invites to your existing customers.
Secondly, you should add a link to your page on your business cards and email signature–traditional marketing techniques should never be ignored. Put a promotion or special coupon on your Facebook page, and inspire customers to like the page to avail the deals and discounts.
4. Engage your followers
How to create engagement? Facebook's new algorithm favors regular posts that create engagement. Ask yourself if the post will create a conversation. We know that Facebook is a platform used by everyone irrespective of age or gender, so you should be social.
It is advisable to interact with the followers by responding to their queries posted in comments, messages or business page. Campbell added, "Use your Facebook (a social site) page for what it's meant to be: learn about customers' needs by responding to reviews and hosting polls."
The key to success is posting good content and to be friendly and conversational. Never fail to respond to comments or private messages.
5. Try Facebook ads
Over the past few years, people use Facebook Ads to market their business around the world. Building connections in today's business environment is a challenging task but Facebook, of all the social media outlets, is the best platform to help you grow your valuable business. All of the big companies use Facebook ads for promoting their business like amazon, Alibaba, and pricey.pk, etc. Let's talk about a few important rules for creating Facebook Ads for your small business.
Ø
Choosing your Objective
Creating Facebook ads is a matter of knowing your objective. In the Facebook Ads Manager, the following objectives are outlined that you can choose from:
Traffic

App installs

Brand awareness

Reach

Video views

Lead generation

Messages

Catalog sales

Store visits
Any of the above Objectives could be used for creating Facebook ads for your business. Suppose, if you wish to increase the traffic of your landing page then you should choose "Traffic," as your Objective. Also, note there will always be one objective of each Facebook ad.
Ø
Choosing the right targeting options
The audience loves great deals. For instance, the secret to the success of an online travel portal is offering exciting last-minute deals to the audience to convert lookers into bookers. Deals could be related to special or cheap airfare rates that will create brand awareness for your small business.
Ø
Target people on messenger
You can use Facebook Messenger to interact with the audience by sending the deals directly into messenger boxes that help you along the way to create effective Facebook ads, generate leads and conversions.
Author Bio
Shifa Aman is a writer and editor at Priceoye.pk. She is a keen observer of technology and loves to write on current affairs, social media, mobile apps, digital parenting, and business development ideas.