When you travel to the lovely city of Nottingham in the United Kingdom, there are loads of good stuff you are expecting to experience and to witness. Beautiful nature and views are here and there. Happy faces and sweet smiles of both locals and tourists like you are all around. Establishments, parks, restaurants, malls, clothing boutiques, flower shops and luxury hotels in Nottingham are all visually astonishing inside and out! Without a doubt, your eyes will be fully fed with incredible sights!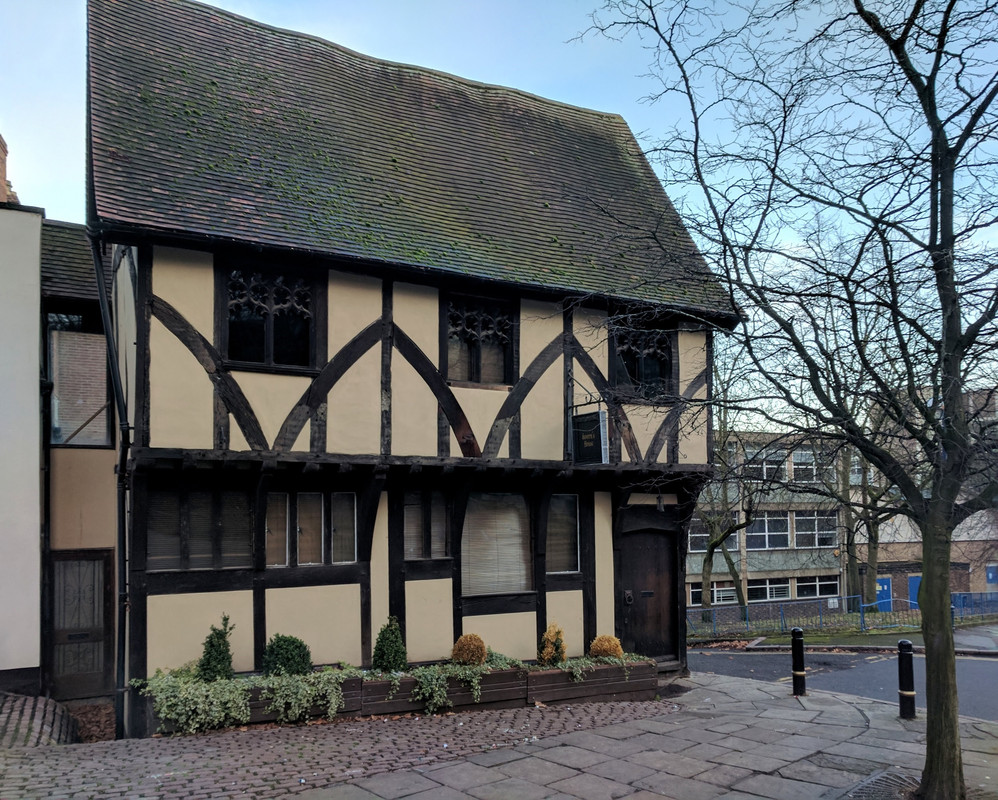 Photo Source: Wikimedia Commons
Nottingham is home to great creativity and artistry. Its visual arts do not come last among the bests. Works coming from its local artists are making their way under the spotlight of fame and appreciation. If you are traveling to Nottingham, you should not miss the wonderful chance to see with your own eyes how visual arts are born, presented and acknowledged there.
For more art learning and experience as you travel to the Queen of the Midlands, below is a list of 5 art places you must pay a visit to!
1. Nottingham Contemporary Art Gallery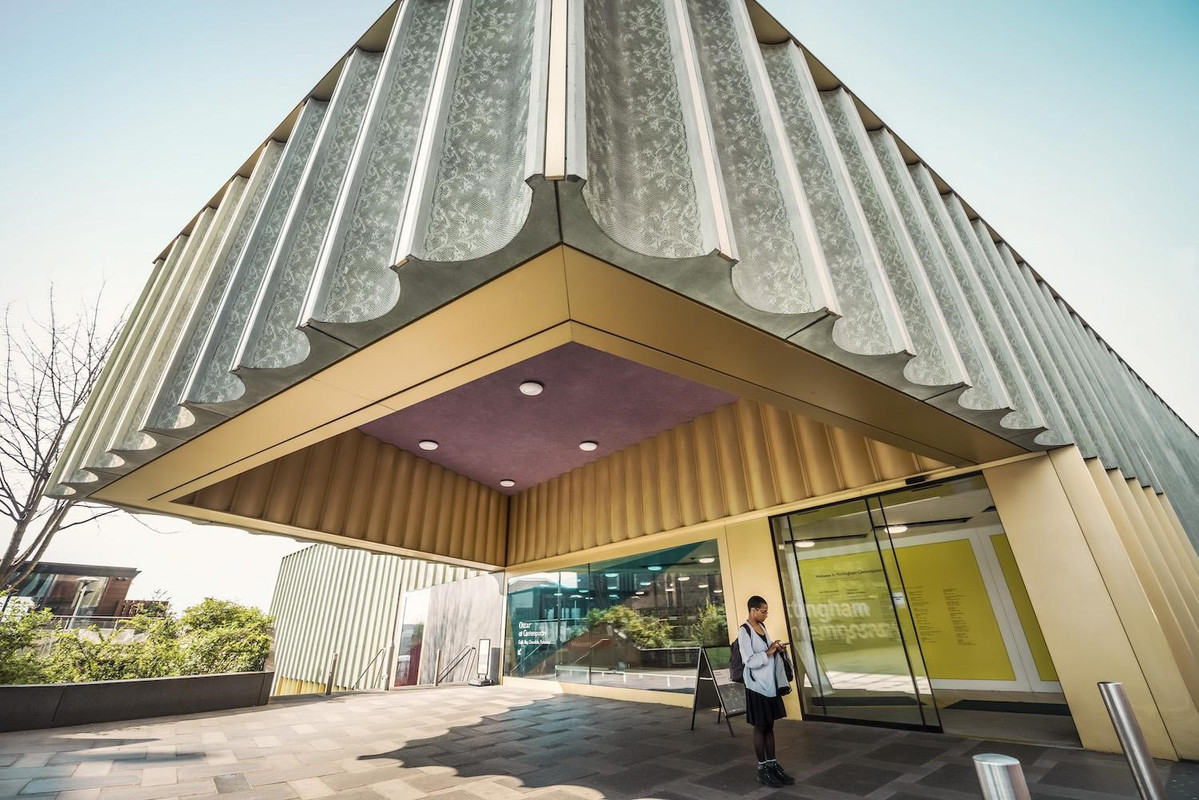 Photo owner: Marc Atkins © Marc Atkins / Art Fund 2019
Not only the contents inside but the building itself where the Nottingham Contemporary Art Gallery is an artistic Obra Maestra. Needless to say, it is historic and very much purposeful to Nottingham's chronicles.
This famous art gallery situated in Weekday Cross is an award-winning gold and green building. It also defines its setting as the oldest in Nottingham. Its design is known as an outstanding architectural feature for it is highly relevant to and symbolic of the city's distinguished lace industry. In the whole UK, Nottingham Contemporary Art Gallery is considered as one of the biggest modern art institutions. It's for you to see as you visit Nottingham!
Nottingham Contemporary Art Gallery opened its doors to the public in 2009. You can witness awe-inspiring international art exhibitions of emerging artists and of the already world-renowned ones! There is full support all the way for treasured talents, and you can feel and see it in this iconic gallery!
Four to five major showcases are organized and conducted every year, wherein artworks from all over the globe are traveled to and presented in Nottingham. It would be a matchless moment to view and experience an assortment of creative gifts housed in one art place in this city.
You can be assured to have an informative and educational journey with the whole family or with your friends for this gallery is prestigious for unprecedented research skills and techniques and learning programs. Excellent art is not just about being visually pleasing; it's also admirable being culturally and socially relevant. That's what Nottingham Contemporary Art Gallery's exhibitions invite.
It would be delightful to go as a group with your loved ones. It's going to be a motivating and social activity! There are well-informed gallery staff guiding, touring and enlightening guests through the artworks.
When you're done, there are nearby pastry shops, snack stations and even small coffee corners inside cheap hotels in Nottingham, but worry not because the gallery itself has a shop and a cafe where you could rest and fill your empty tummy!
2. Focus Gallery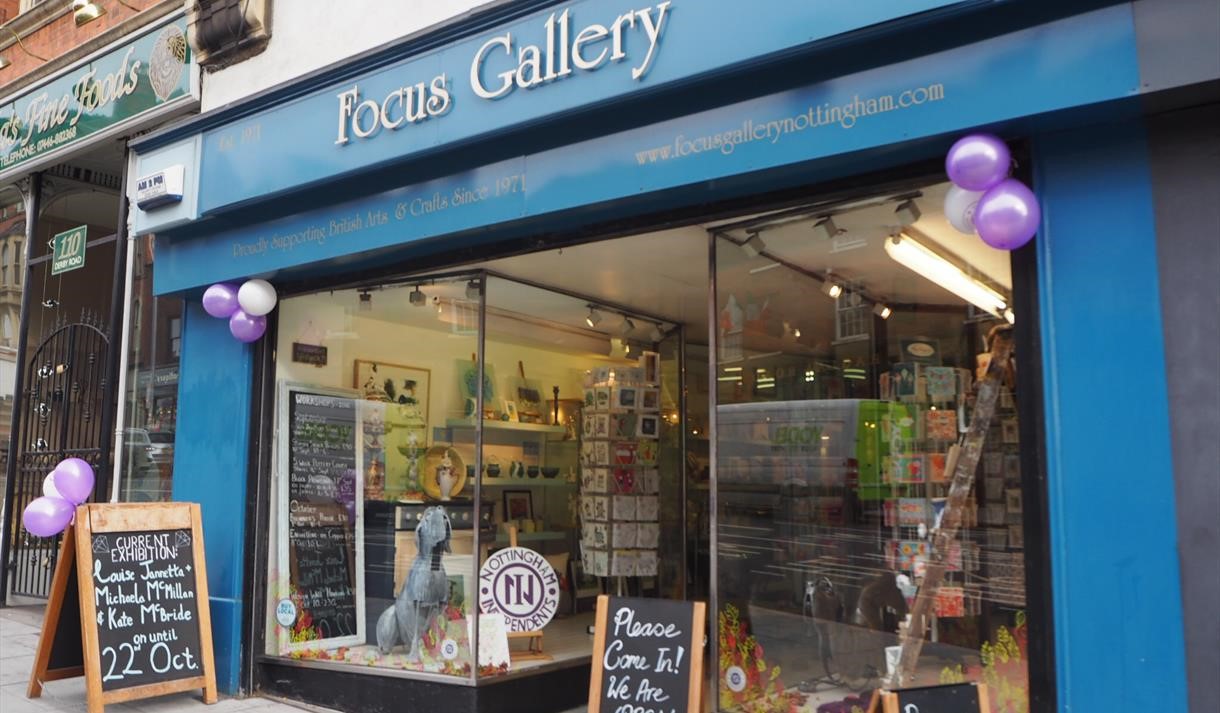 Photo Source: Visit Nottinghamshire
If you want to take home amazing and entertaining art pieces on your own choice, desire and pleasure, visiting an arts and crafts shop should be next on your Nottingham travel to-do-list. Focus Gallery, located in Derby Road, must be what you are looking for!
Built-in 1971, Focus Gallery has ever since made a bright name for itself as it continues to expand and prosper as one of the most celebrated and widely known spots for unique art and crafts in Nottingham.
You will surely be astounded by how this place is overloaded with all sorts of art forms and crafts which you might not have expected to see in it. Your artistic heart will scream joy for every corner of this gallery is art-filled and is so interesting! Diverse kinds of artwork can be found. You can purchase jewelry, bags, clocks, pots, vases, paintings, sculptures, ceramics and tons of other useful stuff, either common objects or huge home displays!
Materials range from textiles, glass, wood, metal, mixed media and many more! The list goes on and can even surpass what you have in mind. You will come out of the gallery with a bliss inside your hands. It's a cool place to make and buy presents for people you love as well!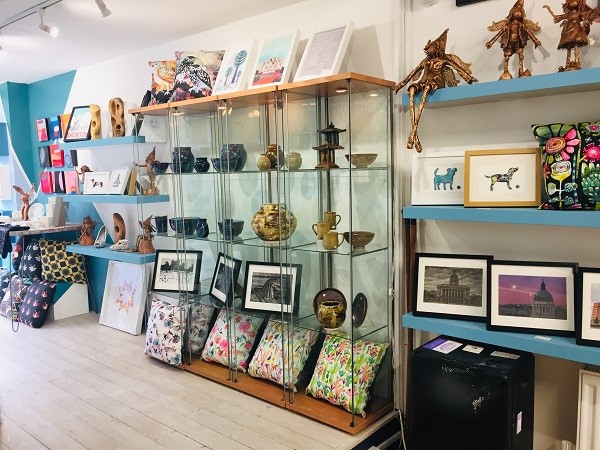 Photo Source: Visit Nottinghamshire
The owner and the staff are all hospitable and ready to lend a helping hand as you look for the perfect gifts and pieces for your loved ones and for yourself. They are willing and able to give the recommendations you need! Focus Gallery shows its love for Nottingham by selling creative deals by local artists and creators. The items are witty and eye-magnetizing, you might have a hard time looking at everything and selecting what to get.
If you are staying in a nearby accommodation in Nottingham, it is a dear opportunity for you to join Focus Gallery's workshops in various art mediums. Additionally, they have one-day sessions for your short visit within the area. You can learn how to create your own customized treats.
As an arts and crafts gallery and not just a mere shop, Focus Gallery also hosts occasional exhibits. Check out the place to see awesome workmanships featured in it. The gallery has a peaceful and friendly atmosphere, making guests feel refreshed while immersed in fun arts and crafts.
3. BACKLIT Gallery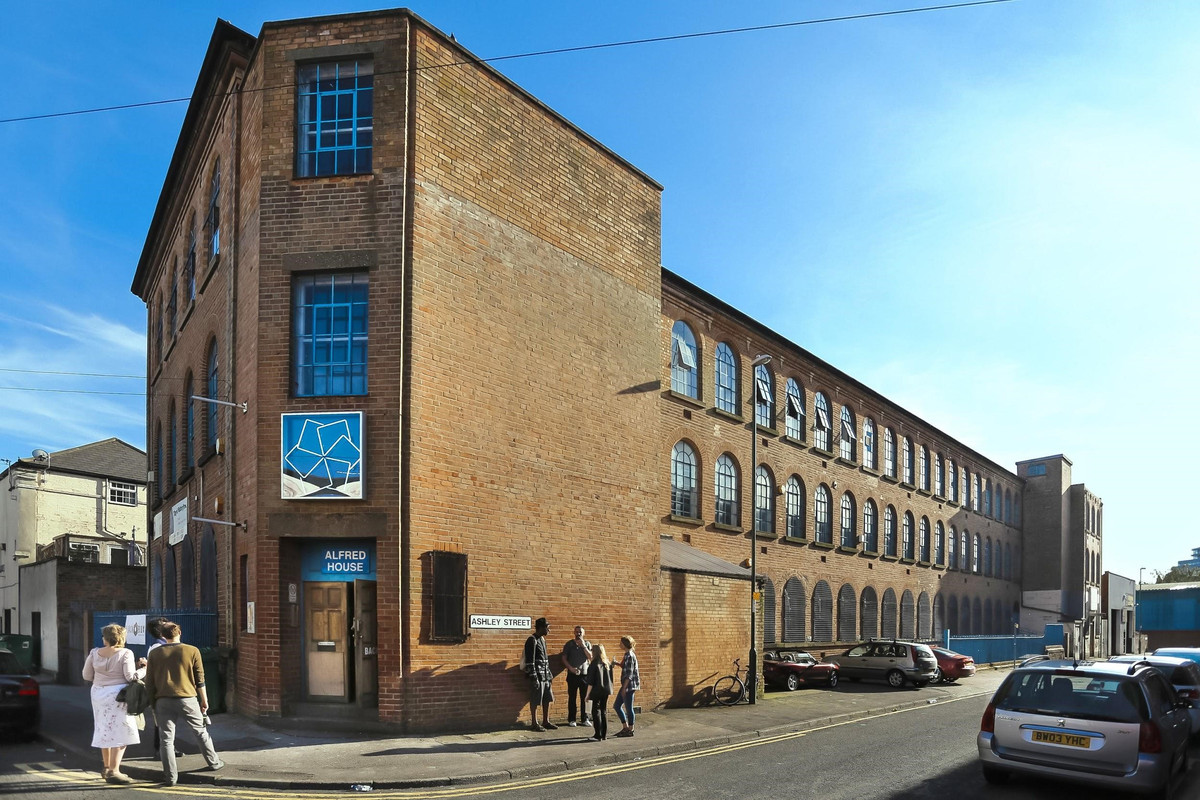 Photo Source: BACKLIT Gallery website
Constructed in 2008 as a voluntary group, BACKLIT's initial goal is to provide a safe and healthy space for fresh graduates to explore, discover, create and curate. The three-story art gallery involves art exhibitions, workshops and skills enhancement opportunities both for newborn artists and the rising ones. It serves as a cost-efficient artistic area where they can work jointly in producing well-thought and well-made creative art pieces.
BACKLIT Gallery is not only a place where tourists can spend time but also a crib and support for those who are yet to embark on an artistic career. There are programs for local and international artists where guests get educated and eye-opened about the industry and its elements.
Breathe a breath of fresh air in the art field, and spend some time in BACKLIT Gallery while you're traveling in Nottingham. People from all walks of life can learn, relate and understand even more by coming to see this art gallery.
4. New Art Exchange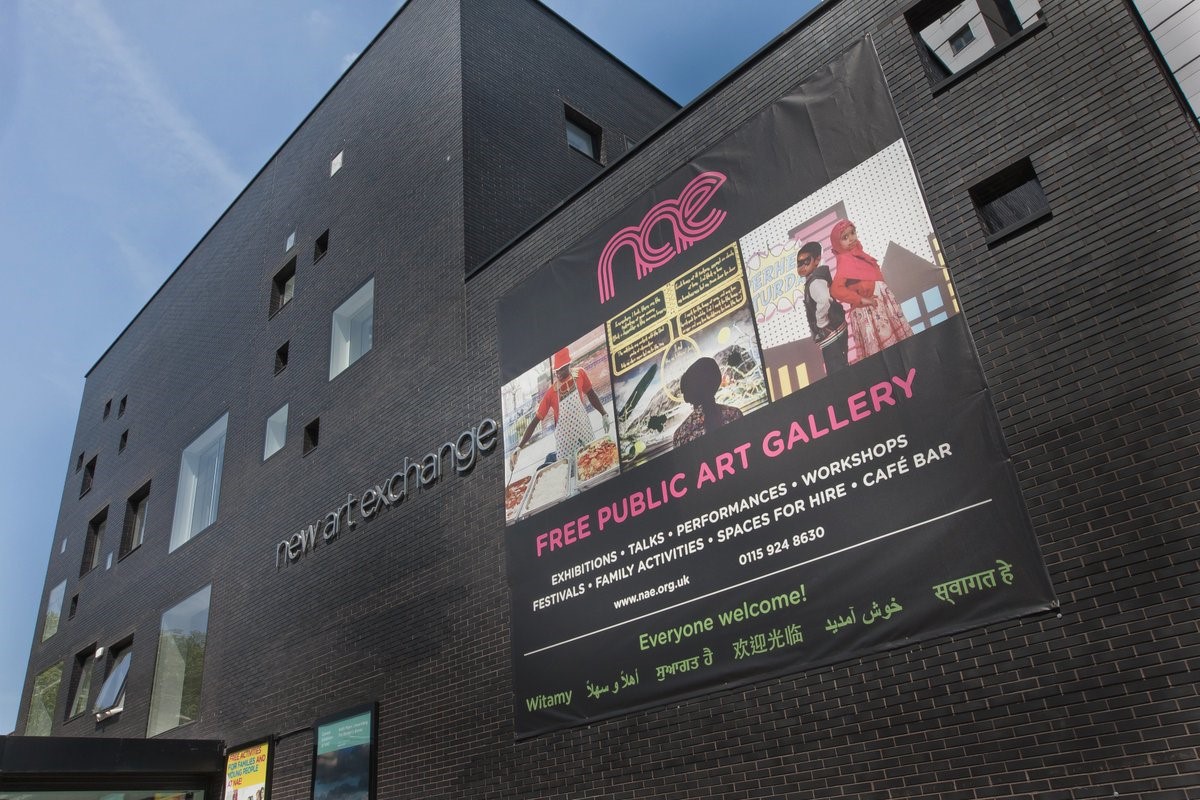 Photo Source: Twitter - New Art Exchange
When it comes to getting to know cultural abundance and diversity, among the best places to visit, is the New Art Exchange. Opened in 2008 and found in Gregory Boulevard, the New Art Exchange is the biggest gallery in the United Kingdom, centered on culturally manifold modern visual arts.
Regularly changing exhibitions are held to share and to view art diversity and creativity in a vast range of work. It is to feature different artists and works of art from different cultures right along. Asian, Black, and minority ethnic artisans and communities are represented and recognized.
The New Art Exchange is a good destination for your family travel in Nottingham. You get to know not only the city and the country you're visiting but also all the other cultures and beauties across the globe. You learn and unravel grace in one magnificent gallery!
Aside from the things you witness, you can also engage in creative family activities! It would be a fabulous bonding time for the whole squad! Squeezing out your creative juices during your Nottingham trip is not a common thing, right? So this would be really exciting! Of course, there are lots of interactive stuff for young people. There are forums, festivals, film screenings and lectures too. Aside from the visual, live dance, music and acts are also shown in the New Art Exchange.
Free of charge, you can enter this art space. Agreeably, there's a cafe on the first floor where you can indulge in sumptuous drinks and snacks! Even the meals served in the cafe revolve around cultural varieties as they also embrace diversified flavors all over the world.
The New Art Exchange is easy-to-access. It is favorably located within walking distance from parks, rides, restaurants, and hotels in Nottingham.
5. Severns Gallery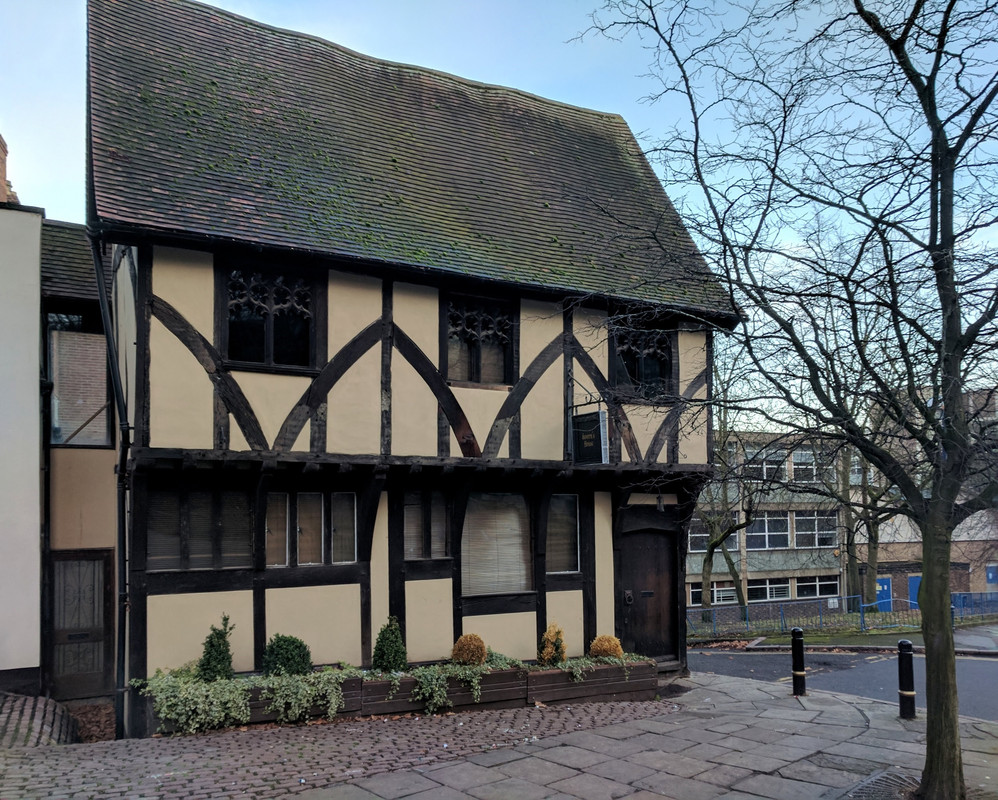 Photo Source: Wikimedia Commons - Severns Gallery
If you are a traveler who loves photography, Severns Gallery is an ideal place you should land your feet on in Nottingham! It is a fresh photography gallery located in one of the most epoch-making buildings in the city, the Severns' House, notable as a Grade II Listed building. Near it is the well-known Robin Hood statue.
Severns Gallery offers exciting and stunning collections of remarkable photographs and photographs of noteworthy people and events. Here, you will see the precious products of legendary camera lenses which you cannot exactly find anywhere else, if not with extremely rare chances.
Definitely, this is a unique place of art in Nottingham for its main focus is photography. Not everybody knows or fully recognizes this form of visual art simply because it's not painting and drawing. Well, if you value discoveries and explorations of various and distinct art forms, it would be a nice time to spend in the Severns Gallery. Its intimate and relaxed space makes the guests even more comfortable, enjoyed and concentrated.
Not only in the simplest levels and aspects of photography but even in the complex and deep areas, Severns Gallery's goal is to exhibit the spectacular variance of photography.
It holds regular exhibitions of photography in celebration of this art. This gallery houses and displays photographs from past archives and already renowned artists to contemporary and arising artisans today. You can see both new and vintage pieces.
There are collections and exhibitions dedicated to preeminent names such as Muhammad Ali, The Beatles and Prince Rogers Nelson (known as Prince). A particular collection highlights the latest original classic imagery honoring the life, achievements and significant contributions of popular musicians. There's a section for Thomas Griffiths, the "Highly Commendable Young Photographer of 2017"; Thomas is the one who made the biggest photo of Nottingham ever made.
It is so helpful, especially for travelers probably like you, that Severns Gallery is not just all about showing images in several sizes and mediums, it also provides easily and freely available pieces of advice regarding the photo masterpieces.
Since you're traveling in Nottingham, you might want to bring home an extraordinary souvenir or an addition to your artistic collection. Severns Gallery is also a place where you can buy top quality of photographs in varied forms.
ARTISTIC UK TRAVEL
If music connects the world, art in general and in many other forms totally do. Art brings people together, stirs up change and builds more knowledgeable and aware communities. When you travel to Nottingham, make sure you do not miss the chance to come near and take a closer look at how art has always been an exquisite portion of the city's past, present and of course, future.
AUTHOR BIO: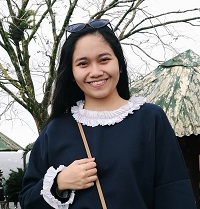 Nicole Ann Pore is a daytime writer for PREMIER SUITES Nottingham, serviced apartments providing a fitting alternative to a traditional hotel stay for all kinds of guests and guest needs. Travel and lifestyle make up a big portion of what she mostly writes about. For her, the beauty of this world is worth-sharing and appreciating.