When it comes to flooring, there are several options available in the market. You can choose as per your needs and requirements. Many homeowners choose different floors for different parts of the home. Carpet and tile flooring are among the most popular choices. Carpets are loved for their comfort and beauty. Tiles are admired for their resilience, durability and low maintenance requirements. There is a huge variety of designs available in tiles.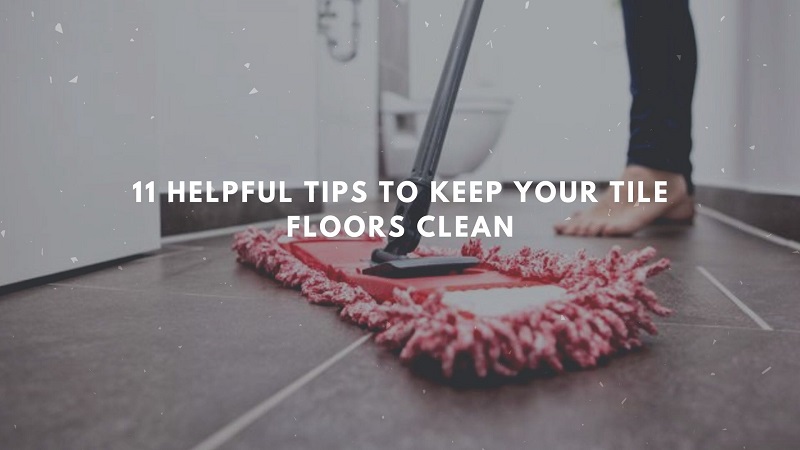 Tile Floors Clean
Tiles floors are easy to maintain when it comes to cleanliness. For annual grout cleaning, hire professional services of
tile cleaning in Long Beach CA
. It is essential to keep tiles clean for a healthier life of your loved ones. Dirty floors greatly affect indoor air quality.
Here are 11 helpful tips to keep the tile floors cleaner for longer times.
1. Sweep The Floors Regularly
Your daily routine should include sweeping or vacuuming the tile floors. The loose dirt, dust, dander and food crumbs must be removed. The dust can easily set into hard grime if it is left in moist places.
Moreover, the abrasive nature of dust can scratch the floors slowly and steadily. Always sweep or vacuum before you mop the floor. Otherwise, you will rub the dirt over the whole surface.
2. Use A Microfiber Mop
If you regularly sweep the tile floors, mopping is enough once a week. A damp microfiber mop is the most suitable option to clean the tile floors. It removes the tiny particles efficiently. Warm water and mild household cleaners can be used to remove the stains. Adding a bit of dishwashing liquid can be helpful.
3. Don't Let The Spills Stay
We often neglect the spills when we have tile floors. Spills bother us when there is a carpet and we might have to call carpet cleaning services. It is good to remember that spills are bothersome even on tile floors. You should wipe them immediately even if it's plain water. Spills can leave stains which significantly affect the curb appeal of flooring.
4. Consider Floor Sealing
One simple solution is to seal the floors. Most of the tile floors are sealed right after the installation. It significantly improves longevity. It decreases the chance of staining and cleaning gets easier. The grout mostly needs resealing once a year.
5. Place Doormats
Invest some of your money in buying doormats for your home. They can bring style and beauty in your home as well as keep your floors clean. It is more than just a warm welcome to your guests. Less dirt means easy cleaning.
6. Use Bath Mats
Water stains are difficult to remove and they look very untidy. They can be avoided by using bathmats in front of the bathtub and the bathroom door. Water gets mixed with the dirt and the combination can wear off the tile surfaces.
7. Furniture Pads Are Helpful
Furniture can be a reason for scratches on tile floors. Keep furniture pads to reduce the impact of weight. When you are relocating the furniture, you need to be super careful. Do not drag the furniture.
8. Set A Shoes Rack
When it comes to hygiene, nothing is too much. If you want cleaner tiles with a lustrous shine, implement the no-shoe rule in your house. Set shoes to rack in front of the door. Make it a rule that everybody will put off the shoes. Ask your guests politely to do so.
9. Keep It Dry
After every cleaning, dry the floors. Moisture traps the dirt and builds the stain. It promotes grime accumulation over time. Water stains affect the look. It can even allow the growth of mold and mildew.
10. Disinfect The Floors
When you accidentally spill some contaminants over the floor, disinfect it immediately. In the case of mold growth, use a 50% solution of ammonia to disinfect the floors. This is a common issue in the bathroom or kitchen tiles. The best way to prevent rot is to keep the area ventilated.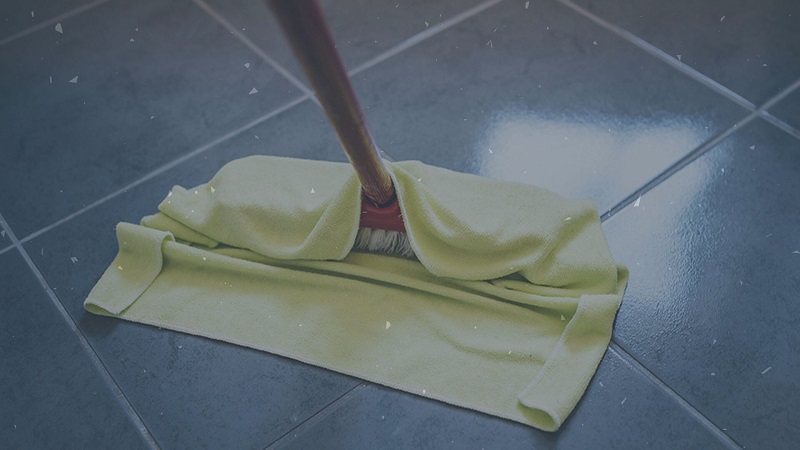 Tile Floors Clean
11. Hire Professional Tile Cleaning Companies
It is suggested to hire professionals to do the tile cleaning annually. They have the right tools and expertise to deep clean the grout.