Excess fluid (edema) or inflammation of the tissues around the eye causes swollen eyelids. The condition may or may not be painful but that depends on the severity whereas effects are visible on both upper and lower eyelids.
The swollen eye is caused by many different anomalies of which some of the most common include eye infections, injuries, traumas, and allergies. There're cases where inflamed eyelids might indicate a much serious health threat such as orbital cellulitis, ocular herpes, and Graves' disease.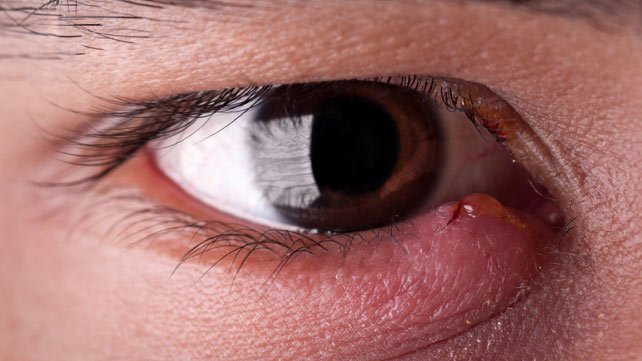 For any particular eye or vision-related issue, it's important visiting the doctor for detailed examination and diagnosis rather than delaying deliberately.
Symptoms
Although allergy or infection elevates eyelid swelling, it can be accompanied by one of the following:
- Irritation in the eye or scratchy sensation
- Light sensitivity (photophobia)
- Excessive tear emission, watering of the eyes
- Obstructed vision (depends on the severity of the swelling)
- Eyelid redness, conjunctival inflammation, and bloodshot eyes
Causes
From mild to potentially vision-threatening conditions, swollen eyelids are caused by numerous factors.
Eye allergies usually occur due to an adverse reaction of the immune system to a foreign substance aka an allergen. Dust, pet dander, pollen, contact lens solutions, and certain eye drops are a few known eye allergens whereas counter/allergic reaction to makeup may also cause inflamed eyes.
When the eyes release a chemical (mediators) for protecting the eyes from potential allergens, development of eye allergy is most likely to occur. The most common chemical is histamine which dilates and swells the blood vessels in the eyes, itchiness to the mucous membranes, red and watery eyes.
"Pink eye" in common; conjunctivitis occurs when clear lining on the eye surface (conjunctiva) is swelled. Bacterial, allergic and viral/worsened pink eye results in swelled eyelids whereas other indications are itchy, watery and red eyes.
These are puffy red bumps on the eyelid edges, styes are commonly caused by a bacterial infection and inflamed meibomian gland. Chocking of these oil-producing glands results in swollen eyelid thus becoming tender to the touch.
Eyelid contusion (black eye) or any other traumatic event that may be an outcome of cosmetic surgery can trigger swollen and inflammation of the eyes.
Treatment & Prevention
Treatment depends on the root cause of the anomaly which is best prescribed after a detailed diagnosis by an optometrist or an ophthalmologist. You may be prescribed with medication or over-the-counter remedies like eye drops.
Antihistamines or oral antiallergy medication along with artificial tears may be prescribed if the swollen eyes are due to allergies. Depending on the severity, you might be recommended mild steroidal drops.
In case the anomaly occurred due to photophobia associated with chronic eyelid swelling, photochromic lenses are recommended to reduce light sensitivity. Conjunctivitis or ocular herpes based eye inflammation is well treated with anti-inflammatory ointments, eye drops, and antibiotics.
Prevention depends on your willingness to have the eyes tested frequently by professional doctors and using beauty products that are fragrance-free and hypoallergenic.