Mirrors are increasingly making design statements in homes and offices. There was a time when mirrors were mostly seen in bathrooms alone. However, at that time, those bathrooms wall mirrors were known as vanity mirrors rather than decorative mirrors.
Today, mirrors are found in different kinds of spaces, including workspaces and living spaces. We present some of the best tricks to apply in adding the uniqueness of a wall mirror to any space in this article.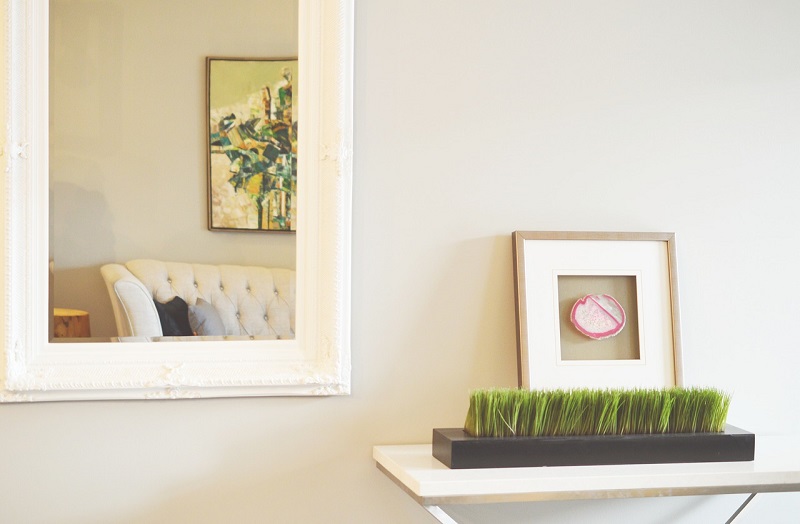 Creative Tricks To Turn A Boring Wall Into A Striking One Using Wall Mirror

In case you have wondered why mirrors have become centerpieces of decoration, we start by highlighting the reasons.
Why wall mirrors are used in interior decoration
For a long time, it has been a well-known fact that mirrors give the illusion of larger spaces. A mirror can make space seem bigger, and that's why they are used in most interior decors.
Another reason why mirrors are making statements in spaces is the availability of different styles. The options of wall mirror currently available on the market are numerous. Irrespective of your preference, there is a suitable option. Mirrors are also available in different shapes and sizes. There are full-length wall mirrors as well as round wall mirrors.
Mirrors are big in the interior decoration industry because they fit into different spaces. Mirrors have moved from bathrooms to living rooms, waiting rooms and boardrooms. In any of these rooms where mirrors fit, they tend to be a center of attraction.
Types of mirrors
The different types of mirrors include the following:
Freestanding full-length mirrors: These mirrors usually have supportive bases. Thus, there is no need to hang these mirrors or place them on a stand. Freestanding full-length mirrors are primarily found in homes. This type of mirror is found mostly in homes because it gives a full-length view of a person. They can also be easily moved from one room to another while in use. Freestanding full-length mirrors could also be called dressing mirrors. Thus, in homes, they are mostly found in bedrooms.
Hanging mirrors: Although these mirrors can be classified under wall mirrors, they have a few distinguishing factors. These factors include the weight of hanging mirrors. Hanging mirrors are always lighter than wall mirrors. While wall mirrors are hung with D-shaped hangers on their back, hanging mirrors are suspended. Hanging mirrors can be suspended with a chain or string.
Antique mirrors: These mirrors are remakes or modern versions of mirrors that were associated with different periods in the past. Antique mirrors are mirrors from different eras. Some of the popular antique mirrors include Baroque mirrors. Baroque mirrors were found in Spain and France. These mirrors have a mix of Italian design and are big and bold. Georgian mirrors were popular in England and are currently some of the available antique mirrors. Venetian mirrors and Rococo mirrors are other kinds of antique mirrors.
Wall mirrors: Wall mirrors are available in different sizes and types. These mirrors are found in separate rooms and could be hung or mounted on the wall. Certain factors determine whether these mirrors will be hung or mounted. These factors include the size of the mirror. The weight of the mirror also determines whether it will be hung or mounted. For wall mirrors that are hung, there is a D-shaped ring at the back. You can get mirrors in different shapes and sizes. Mirrors for walls could be full-length mirrors, round wall mirrors, and oval wall mirrors. It is noteworthy that you can buy a wall mirror with or without the frame. There are large wall mirrors as well as small wall mirrors, adapted to different room sizes.
Some of the different styles of wall mirrors include the following:
Round wall mirrors: Round wall mirrors are known for their softness. Because they do not have sharp corners, these types of mirrors can make a room look very different. The fact that they are not typically have made them especially popular. Round wall mirrors mostly have frames. These frames are designed in exceptionally stylish ways. The frames of round wall mirrors make them even more unique.
Vintage wall mirrors: Vintage wall mirrors or is round mirrors or available in different sizes. The focus of the designs of these mirrors is elegance and charm. They are thus made with unique materials. Vintage mirrors are specially designed to be statement pieces.
Rectangular wall mirrors: Although they are the traditional types of mirrors, they are still trendy. Rectangular walls are also statement mirrors, as they include unique designs. The materials with which these mirrors are made to distinguish and define them.
Rustic wall mirrors: Rustic wall mirrors are wall mirrors that are particularly aimed at elegance. These materials are made from a variety of materials which include plastics. These mirrors are usually incorporated in spaces with especially chic decor.
Other styles and shapes of wall mirrors include hexagonal mirrors and industrial style mirrors. Hexagonal wall mirrors are suitable for living as well as workspaces. Industrial style wall mirrors are mostly found in spaces with a masculine décor theme.
Tricks for making a space pop with wall mirrors
Wall mirrors can completely change the style of a space, uplifting it. There are tons of wall mirror décor ideas available. Here are some of the established tricks for incorporating mirrors into spaces.
Mirror tiles: Mirror tiles are an innovative way of incorporating mirrors into spaces. Mirror tiles are especially suitable for spaces such as bathrooms. If you do not want regular bathroom wall mirrors, mirror tiles are an excellent option. You can even an accent wall out of mirror tiles. To make a statement with mirror tiles, be sure to incorporate proper lighting.
Mirror reflection: A wall mirror can do much more than open up space. Your ability to apply the different features of a mirror will determine its effect. One of the qualities of a mirror which can be applied in interior decoration is a reflection. Maximize the reflective features of a mirror by positioning the mirror close to a piece of art it could reflect. You could also position the mirror to reflect a view from outside.
Mirror combo: This trick works for a variety of spaces. You simply need to combine different styles and shapes of wall mirrors. To effect this trick properly, you should choose complementing mirrors. The mirrors could be of different shapes and sizes but should have a similar theme. A combination of wall mirrors is a great way to turn a large wall space around. It works for living spaces as well as workspaces. In homes, a combination of mirrors can be placed in the living room. For workspaces, a mirror combo will be great for a waiting area. Mirror combos can also serve as bathroom wall mirrors. Mirror combos are mostly found in bathrooms with large walls.
Closet mirrors: Mirrors can make statements in closets, especially walk-in closets. With closets, it is important to remember that the mirror must be practical and stylish. Framed as well as unframed mirrors are suitable for closets too. While incorporating a wall mirror into a closet, the focus should also be on the lighting. Different shapes of mirrors can be found in closets. Rectangular closets are, however, some of the commonest closet mirrors.
Sunburst wall mirrors: The trick with these mirrors is in the space where they are placed. As popular as sunburst mirrors are, their placement determines the effect on the room. Sunburst wall mirrors are most suitable for small wall spaces. The uniqueness of these wall mirrors is the design of the frame. Since the frames are unique, they shouldn't compete with other mirrors. A sunburst wall mirror alone in a small wall space such as a hallway makes the most effect. Since sunburst wall mirrors are available in different sizes, the size should be according to the wall size. Any space that would fit a clock will be perfect for a sunburst wall mirror.
Mirror headboard: Although this involves sacrificing your headboard, the end product is always very effective. Switch your headboard for mirrors by place mirrors side by side over your bed. The mirrors will make a unique statement in the room and serve as dressing mirrors too. You won't lose much of your headboard comfort if you stack your pillows against the mirror. To get this mirror design trick right, you should focus on the mirror size and shape. The size of the wall should determine the size and shape of the mirror.
Mirror behind sofa: Placing a wall mirror behind a sofa may seem like a trick that has always been around. It has always been around for a reason: it always makes a statement. The mirror is usually a large wall mirror that is placed at an angle to the sofa. Rectangular framed mirrors are the best mirrors for pulling this off too. Once again, the trick is to choose a mirror that is appropriately sized to the sofa. The frame of these mirrors is a major part of making the statement. Statement wooden frames are very suitable for these mirrors.
Go for gold: Almost everything is better in gold. This goes for wall mirrors too. Whether large or small mirrors, they are always better in gold. Thus, if you want to make a statement with a mirror, go for gold. Gold mirrors also work well when a lot is going on, and minimal input is needed. Since gold makes such a statement, you should also consider its size. A large gold wall mirror may draw too much attention to itself.
The bigger, the better: To maximize the ability of a mirror to open up space, go for a bigger mirror. The bigger, the better applies to mirrors too. When a big mirror is placed in a space that is quite narrow, it opens it up. The lighting and mirror are such areas could also be tailored towards maximum effects.
A pop of color: Decorative mirrors, with a pop of color, will brighten up any room. Wall mirrors with a pop of color can be incorporated into the theme of different rooms. To effectively incorporate a mirror for walls with a pop of color into space, choose the colors appropriately.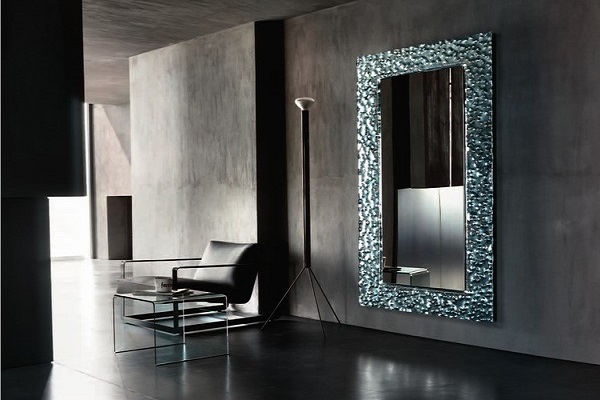 Tips for wall mirror decoration
To change a space with wall mirror decorations, it is important to consider some basic tips which include the following:
Placement is key: A mirror is not a magical tool that can transform any space. It only transforms space when properly placed. Placement tricks, including those listed above, will determine how a mirror will transform the wall.
Mirrors fit small spaces: Because mirrors add depth to small spaces, they fit even the tiniest hallways. For such tiny spaces, bigger mirrors are also better.
Proper hanging: Proper hanging of a mirror determines the overall style effect as well as safety. Nails should be well drilled into walls to hold the mirror safely. Walled mirrors are also best lying flat against the surface of the wall.
Conclusion
Mirrors can turn a space around like magic, only if they are properly placed. Irrespective of your style preference, mirrors can bring walls in living as well as workspaces alive.
In choosing a mirror for decoration, you should consider factors such as functionality and style. You should also consider the cost and durability. In regard to the cost-effectiveness of wall mirror decorations, there are stylish and cost-effective mirrors readily available in the market. Some of the particularly stylish yet cheap wall mirrors include those made with wrought iron. We close out by emphasizing that decorative wall mirrors are not a rave of the moment. They are here to change how interiors decorations are carried out in the modern age.