Usually, people put more focus towards kitchen and bathroom during home renovation time. The living room is assigned with least priority by the decorators when your home needs a revamp.
You should also put efforts to upgrade your living room because it is the first room observed by the guests in your house, therefore, it should reflect your style and good taste.
Don't worry, because we come up with various budget-friendly ideas to redecorate your living room.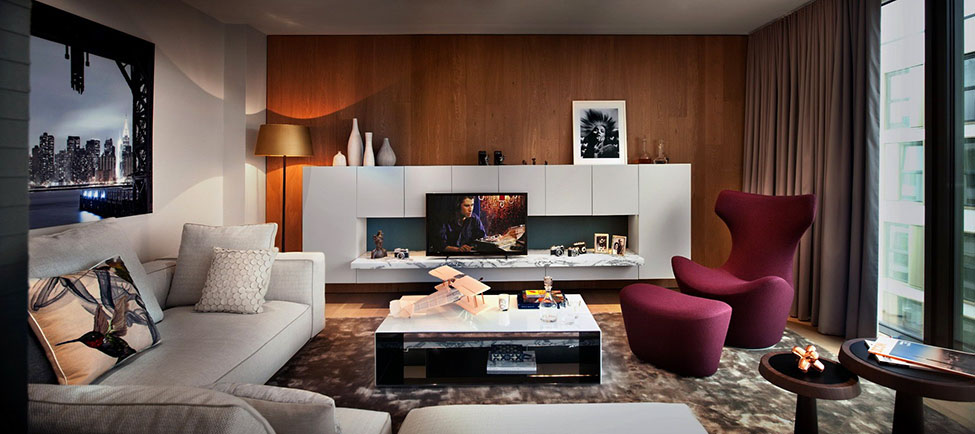 8 Modern Living Room Decor Ideas
Before starting this project you should consider various things. First of all, set your objective and then plan accordingly. Decide how you will use the space? What are the important things that you want to keep inside the living room and what you want to replace with a new one?
To initiate the designing process, we have compiled seven different tips to transform your living room into a luxurious one and timeless as well.
1. Purchase Oversize Piece of Art
Your living room must have a focal point and wow factor. Create a focal point by hanging huge size art on one of your living room walls. This big size of art can make your room stylish and can create a high-level impact and little hassle.
Do not purchase this big size art frame from hi-fi store but you should keep your eyes peeled at flea markets and thrift stores where you can purchase this piece at a good price. If you love painting then it's time to get creative and decorate your room within budget.
2. Keep It Simple
Do you know that over accessorized living room looks messy and cluttered? Therefore, it is recommended to keep your living room simple and does not add too many decorative elements.
Cut down your collection, clear the junk and keep only those pieces that are really worthy. You can sell all the unwanted elements or can call rubbish removal professional to take all unwanted stuff away from you. Simple and uncluttered space will let other decorative elements to shine out and also it will keep you on budget.
3. Disguise Your Television
A huge black TV placed inside the living room can bring down our efforts and also minimize the luxurious effects inside the room. If you cannot purchase costly fancy mirrors then you can minimize the visual appearance of your screen by building a gallery wall or salon-style art arrangement around it.
Well, this technique will not let your television completely disappear but the frame of the television will blend in with the other artwork and distract the viewer. In addition to this, with a few thrifty finds, this idea is completely budget-friendly.
4. Get Some Creative Textile
You can provide a custom look to your living room with the help of antique textiles. Use throw pillows or cover small pieces such as seat cushions or upholstered stools. You can also purchase an antique Turkish rug and place it on the floor.
This is another simple trick to create visual intrigue. If you want to add some unique elements then you should try some unusual fabric and personalize your space. Or, you can also add a textural throw over a sofa.
5. Add a Sculptural Element
Do not just by circular or rectangular elements, try some another form of elements with different shapes and sizes or unique silhouette.
You can purchase a tree-root coffee table or unusual side chair as it is a unique item and will enhance the decor of your living room. This is completely inside your budget and an unexpected and wholly artistic component.
6. Incorporate a Historical Element
Add a sense of wisdom in your living room by incorporating an antique piece with some patina and age to it. This antique piece could be anything ranging from big size mirror to a small side table or any other accessory.
If it gives off an air of "I was purchased at a French flea market and came from an old château," it will do wonders. Start searching for less costly items available in the market.
7. Try a Combination of Different Textures
If you want to give a luxurious look to your space then incorporate a layered, thoughtful mix of materials and textures. Mix various elements such as metals, glass, wood, textiles, and leather items to create a dynamic, inviting space. Carefully choose all items that suit your budget, and let your room come together naturally.
8. Blue Living Room
Another popular color choice of the moment which is going nowhere fast is the blue living room. From navy to teal, rich, inky blues are enjoying their time in the limelight and we can't get enough of them for the lounge.
An excellent wall color as you can see from above, it's a vibrant yet versatile color that certainly plays well with others. Keep it simple by pairing it with whites and greys or be more daring by adding mustard yellow, blush pink or subtle multicolor.